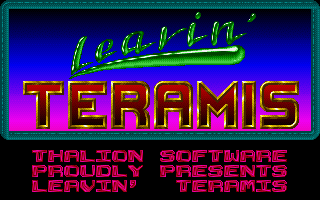 Leavin' Teramis is one of Thalion's less renound titles, which is a shame as it was possibly the best of it's genre at the time (Which is a top down shoot 'em up / dungeon romp).

The first thing that amazes you in this game, is the Title intro screen. You all know that the Thalion team were Ex-Atari ST demo coders, and this screen wouldn't look out of place in any demo.

The background rasters contain 100's of colours, and are in some form of interlace screen mode (very rare on ST-fm's) giving a high resolution. The intro credits even talk about blowing away the 512 colour limit on ST-fm's with palettes of 22,000 colours!